Here is a post about other people's mistakes, and, so, here's hoping that, herein, I don't make too many of my own.
I and my partner watch TV with the closed captions on, and we have done so since we have been together; so for nigh on twenty years. (The old timer in me relishes using the phrase "nigh on.") Closed captions are a dodgy business because they are so dependent on the mostly anonymous humans doing the captioning. A person who does not have the knowledge, skill, sobriety or diligence to accurately transcribe the words that are spoken by the people on the TV screen will do a disservice to the program and to the audience.
I said mostly anonymous because captions usually, at the beginning or end of a program, admit to which organization provided them. Sometimes it is a network like CBS, or a flagship network channel like WGBH TV in Boston, a premiere station in the PBS network, or it might be a studio or the National Captioning Institute. Occasionally, a captioned program will also end with a message such as "Captioning by Brian" whoever the hell he is; but I suppose I could try to report him – or send my compliments – if I wanted to.
The United States Congress has actually mandated closed captioning for the hearing-impaired through several legislative acts between 1990 and 2010. Some older movies and TV programs are grandfathered out of the requirements, but many older programs have been captioned anyway, especially if they are being re-issued in a new format.
Sometimes the technology does not mesh very well with the medium. I have an old video tape of the movie "The Fifth Element" (1997) that has captions, but they stutter and glitch and often turn into gibberish.
The captions for different programs on TV are different in quality. A recent movie or network TV show will probably be captioned well with a minimum of mistakes. I can only speculate as to how this captioning is done. Often I suspect that some captioners actually have a copy of the script in front of them – or at least at their elbows – because they are almost impossibly accurate, as when the main character is a physician and an expert on Egyptian archaeology, and yet the captioner spells every technical term or word in a foreign language correctly.
Sometimes I have even suspected that the captioner worked so closely from the original script that they ignored the actual words spoken on the program. In other words, a word or an entire line might appear in the captions, but the actor never says those words or might even say something different. In these cases, which I noticed more in the previous decade than I have recently, I came to suspect that the script was edited before it was performed. I often had the impression that the way the line was said was better than the version in the captions. This made me admire the artistry of the team that made the program. I could actually witness them making the script better than it might have been. But it was still disconcerting.
Another possibility – that makes a great deal of economical sense – is that many of these productions could have been using computers to input, automatically, the original shooting script into the program without regard to the final production. That is to say, a computer program with very little guidance from actual humans could be doing some of the captioning. However, I have noticed this problem less in recent years, whereas I used to see it all the time. Yet I still occasionally turn to my partner after a caption says, "I'm sorry," and I'll say, "I did not hear anyone say that line." So, in some cases, captioners may still be overly dependent on the original script.
Captioners are given to describing incidental noises that might be significant. Music and directions, such as "Clock ticking," are usually put in parentheses.

I also noticed, though more in the previous decade, that when there was a song added to the soundtrack, it was sometimes wildly misidentified by the captions. I could only conclude that just as the lines were sometimes changed in the final production, the choice of music was, too.

Another problem with music is that captioners may or may not be given leeway in describing it. Professionally produced network shows will simply use the accurate caption, "(Green Day "Good Riddance/Time of Your Life" playing)." In situations where the music is not borrowed from an outside source, the captions might say ("Theme music").
In some cases, it can be all too obvious that a human being is in charge of the captions, and the results can be embarrassing. One of the most outrageous things I ever saw in captioning occurred back about 2001 when I was watching the local news. As the news reader, a pretty young woman named Stephanie, began the program, "Good evening, I'm Stephanie ____ ," the captions read, "I'm sucka fool Steph."
Now, my first thought was that a local captioner (obviously an actual person), was impugning Stephanie's honor, so to speak, but then I realized that the captioner had meant to say, "such a fool" not "sucka fool." So the fool was supposed to be Stephanie and not whoever might be in receipt of her sexual favors.


I never knew the outcome of this prank, but I wondered whether the station monitored their own captions. Did they know instantly what had happened, or did they rely on the hearing-impaired to call in to complain? Did the prankster get away with it, or was he or she fired. (Call me sexist, but I would have laid odds that the captioner was a woman.) The other question in my mind to this day is whether that captioner was sober or not. (Go back to my opening paragraph; I did mention sobriety as a desirable quality in captioners.)
Most captioning mistakes are less deliberate and not so mean-spirited, but attention to detail is so important that when the captioner is less than competent or just overworked, mistakes can be made and often are. Even the dedicated captioner can make a mistake. I recently saw an episode of the old BBC series "MI-5" in which a character said, "What do you have on Dick Maynard? Would you have any trace that he and Lermov did business together?" The otherwise admirably competent captioner substituted "Maynard" for "Lermov" so that the hearing-impaired are left to wonder whether the character is seeking confirmation that Mr. Maynard ever did business with himself.
Matthew Macfadyen, Hugh Laurie and Peter Firth in the scene from the BBC series "MI-5," from the episode "The Rose Bed Memoirs" in which the line mentioned above was incorrectly transcribed.
When programs or movies are farmed out to crews of captioners – or however this is done – things can get dicey very quickly. One of the aspects that amuses Susan and I is the way that captioners describe the incidental or background music. "Pensive music" is not unheard of to captioners even if it is not readily conceivable to the rest of us. But who is to say whether instrumental background music is "pensive" or "mysterious" or "tense" or "restless"? I once watched a British documentary series in which each episode began with the same theme music, which one captioner described as "majestic" another as "tragic" and another as something else. The profoundly deaf person might wonder whether or not each episode opened with different music. This underscores the fact that many programs that have human captioners are dividing the episodes among a team of captioners. I do not know how this is organized, but I have reason to imagine them captioning on a rotating basis or each captioner being given several episodes in a row to caption.
Jock Mahoney and X Brands in "Yancy Derringer" (1958).
The reason why I suspect the first strategy, at least in some cases, is that, while watching the old TV series "Yancy Derringer," I noticed that each captioner had a different description of the opening theme music. Some said it was "folksy music" others called it a "western theme" and others describe it as "dramatic." But one described it as "waltz music." When I saw that, I had an impulse to kiss the captioner for recognizing accurately, I believe, what the theme music to that show is. Confusion is somewhat understandable because the theme starts out with a bold flourish that might well be described as "dramatic," but it quickly turns into something very like a waltz (if it is not one technically; I do not pretend to be an expert on music by any means).
Anyway, the captioner who describes the theme as a waltz is not a one-off. He or she comes around again to caption every few episodes; but I have not checked to see how often or how regularly the "waltz captioner" comes around.
Some of the worst captioning I have seen is on the soap opera "Dark Shadows." Originally, of course, this 1960s daytime serial did not have captions, but, unlike the overwhelming majority of such programs, nearly all of its episodes were preserved in some form, either on original master tapes or as black and white kinescopes. Years later, selected episodes were sold in sets of video tapes, and later on DVDs. Today, all 1225 episodes are available on DVD as well as streaming internet video.

Obviously, someone hired a crew of captioners to cover all 1225 episodes. As you might imagine, this monumental task was in danger from the start of being riddled with errors. But being incapable of listening carefully and thinking clearly makes mistakes more likely. In one episode of "Dark Shadows," the character Professor Stokes repeatedly and clearly says "Coptic cross," but the captioner persists in "correcting" this to "Celtic cross." (The cross in question is an ankh; certainly not a Celtic cross.)
I have noticed that one captioner for "Dark Shadows," who always describes the opening theme as "eerie music," also seems to make more mistakes than the other captioners. I had this impression immediately after watching episode 773, which seems to contain an awful lot of mistakes. Twenty-one episodes later (episode 794), another high rate of errors made me suspicious that the same captioner who botched episode 773 was at it again. Tellingly, the captioner in both of these episodes describes the opening theme as "eerie music." (The captioner of episode 795 has "ominous music" and the one who did episode 796 has "dark mysterious music.")
To prove this, I watched episodes 773 and 794 and counted the number of errors. I identified the incorrect transcriptions of parts of twenty lines in each of these episodes. More in the latter episode if you count the multiple times that the same character's name was incorrectly transcribed. In contrast, episode 796 has only ten such errors. (A few of them are doozies, but, still, there are half as many mistakes.)


Some of the more amusing examples follow.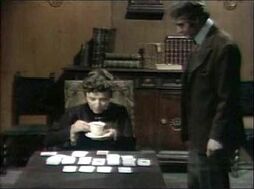 From episode 773:
"I shouldn't like you to think ill of me" somehow made sense to the captioner as "I shouldn't like you to think hell of me."

"I didn't have the foresight to bring a gun" was turned by the captioner into "I didn't have the force, I had to bring a gun."
Evan Hanley threatens Rachel with the words, "I can get rougher." This was transcribed as "Shall I make it proper?"
As he leaves Rachel alone, locked in her room, Hanley assures her that she will not be alone "for long," but the captioner transcribes this as "Hold on."
"Shaw is violent" became "I'm sure he's violent."
"When you tear it up" became "When you tear it out."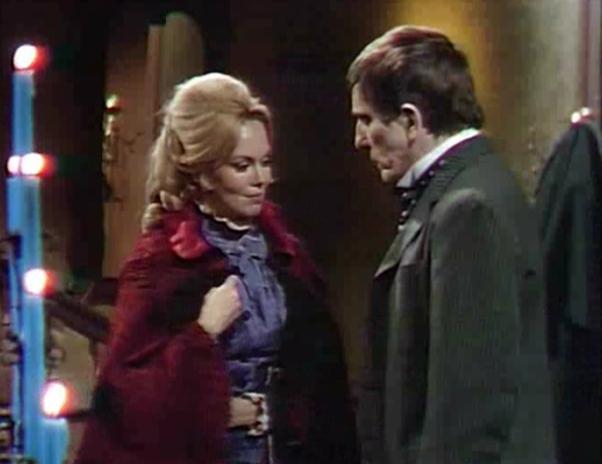 From episode 794:
The name of the character Quentin is consistently misspelled "Quinton." I only count this once.
Mr. Fenn-Gibbon is called "Sangivens."
"Both black and white" is rendered "so black and white."
"Ceremonial rites" is transcribed as "ceremonial rights." Sorry, I am including misspellings here.
In what is perhaps the funniest mistake in this episode, the villain Fenn-Gibbon gloats, "He's convinced that I'm a member of the English aristocracy." The captioner has, "He's convinced that I'm a member of the English heretics."
Magda Rakosi is consistently called "Magda La Corti" in the captions. Her husband is robbed of the first syllable of their surname – and possibly of his manhood, as well – when he is called "Tandora Corti." His name is "Sandor Rakosi."
A couple of lines are admittedly hard or impossible to hear, but "One small failure doesn't mean defeat for me" ends up in the caption as "Once more say it doesn't mean defeat for me."
"I'm of King Johnny Romano's tribe" becomes "I'm of King John Iramano's tribe." Spelling Phonetically can be treacherous.
"That is enough" strangely becomes "Better than nothing."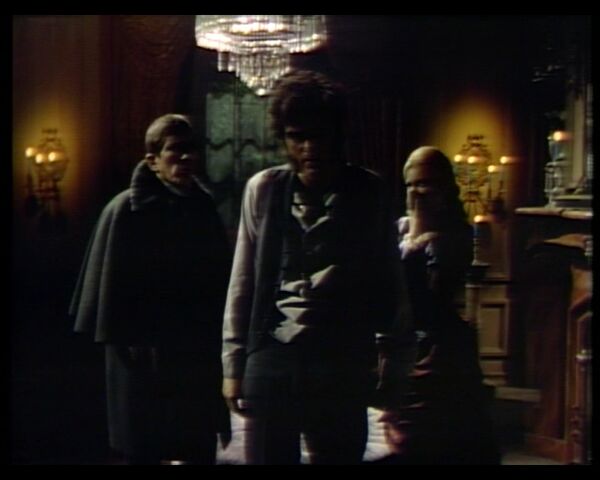 From episode 796 (A different captioner; with fewer mistakes, but some really bad ones):
This captioner gets all of the character's names right, but...
"Why must I?" becomes "Why mister?"
"Shall I begin to choke again?" becomes "Shall I begin to joke again?"
"Oh, yes, how brave you and that Magda were" gets to be "Oh, yes, how brave you and that man that work."
"Some men like to live in doubt" is turned into "Some men like to live in dust."
The word "not" is left out of the line "That might not work." What a difference a "not" makes.
"Shan't" is rendered "shalln't," which isn't a word.
"God" and "gods" are rendered "guard" and "guards" more than once. "Gods" is correctly used only once. As I say, this captioner has fewer mistakes, but when they are made, they are doozies.

Post Script: I see two objections to my thesis, one perhaps corollary to the other. My sampling only three episodes is not enough. Also, "eerie music" is such an obvious description of the "Dark Shadows" theme that it turns up often, albeit not always alone. Episode 801 has both "waves crashing" and "eerie music" while 804 has "crashing waves" and "eerie music." In between, 803 has simply "eerie music," but I have not counted the mistakes in these episodes - though I did notice in passing that there are some. Also in passing, I hardly noticed any mistakes in episode 810 even though it labels the opening theme "eerie music."

On the other hand, "eerie music" episodes 808 and 809 contain some colossal errors, though I did not count them up. For example, in 808, "I'll do the hoochie coo" becomes "Under the hoochi coo" and "Tarara Boom-de-ay" becomes "sararaboomdeay." This leads me to wonder whether or not I am criticizing a captioner who was losing his or her hearing at the time. How else can one hear a "t" as an "s"? Obviously, one can't, and against the likelihood of a keyboard mistake, it seems significant that "t" and "s" are four keys apart and in separate rows, on a standard keyboard at least.

My favorite error is from episode 809 where the captioner not only rendered the name "Tessie" as "Chelsea" but "Count Petofi" as "Count of Toffee."